Barossa Shiraz, handcrafted
To mark the visit of Two Hands proprietor Pierre-Henri Morel, we're spilling the red on three delectable stories of the Barossa estate's finest ferments that we've been shipping in for you to enjoy.
As Wine Park hosts Two Hands Wines proprietor Pierre-Henri Morel's visit to India, we're illuminating the stories of three sublime Shiraz styles fashioned in Barossa Valley's sunny and fertile heart by an estate that represents the region's vinous soul and gives each bunch of grapes the inimitable human nurture and attention that shows up in every vintage of Australia's favourite wine. A journey that began with a question about how to give the world a great bottle of Aussie Shiraz, has notched 20 vintages of stellar reds from Australia's famously adopted and rechristened French grape. The Barossa winery situated in Maranga is purpose built to crush and ferment each small parcels of grape separately in line with Two Hands' core philosophy of according personal attention to every bunch of grapes the estate vinifies. And this approach shows up in each glass of Two Hands Shiraz that expresses Barossa at its finest. Come savour the story of three of the finest.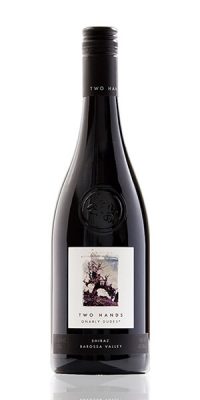 Two Hands Gnarly Dudes Shiraz 2020
Australia owns the Shiraz, not just with regard to naming rights but also a bold, ripe style that doesn't apologise for muscular tannins and pushes the alcohol level to the limit. And it all comes together in the Barossa Valley in South Australia. Shiraz is Barossa and vice versa. Soils of black and red clays with siliceous sands enable the vines to nurture fruit of sublime balance and concentration. And that's what happens on the prized vineyard parcels of the Two Hands Wines estate in Marananga where the Two Hands Gnarly Dudes Shiraz 2020 gets made. The wine is an ode to the cult 1998 dark comedy The Big Lebowski and the tough old vines that sit on the clay soils. This classic Barossa Shiraz abounds with rich flavours of raspberry and plum, mingling with black pepper, leading to fleshy tannins and impressive length. This dude nails the Aussie Shiraz style.
Two Hands, Angels' Share, Shiraz 2020
Two Hands Wines has thrived on the back of its unique approach when it comes to vinifying fruit and presenting wine. Each of the wines of their Picture Series is produced from grape that is nurtured by hand and each bottle bears a unique name, artwork and story. The same is true to Angel's Share, their Mclaren Vale Shiraz. Angels share refers to the small amount of wine that evaporates from oak barrels during maturation, Medieval winemakers assumed that angels diligently watching over their wines were discreetly taking their share. Perhaps there's still some divine intervention in the makings of this Mclaren Vale shiraz. McLaren Vale is South Australia's oldest region and enjoys a warm dry climate tempered by cooling breezes off its Mount Lofty Ranges. Oceanic proximity coupled with soft sands and dark cracking clay soils also helps impart depth of flavour. Two Hands' vineyards sit in a micro-climate that allows f for slow ripening and a fuller expression reflected in the eventual wine that is barrel aged for 14 months. This full bodied red wines surges with rich red fruit and herbs complimented by notes of chocolate and generous tannins.
Two Hands, Brave Faces, GMS 2020
This wine holds a special place of pride in South Australia. It's present brilliant form stands in sharp contrast to the 1980s when Grenache, Mourvèdre and Shiraz vines were being uprooted removed due to a lack of demand. Brave Faces is a tribute to the men and women that loyally tended their vineyards, allowing them to remain intact today. And this GMS blend proves just why this tribute is more than deserving. Barossa's terroir nurtures the three grapes towards near perfect ripeness and full flavours following which the fruit is crushed and the juice fermented separately before being blended and put under French oak for six months. This fine Aussie take on the classic Rhone Valley blend beams with cherry, herbs and touch of pepper, finishing impressively long.