Light Up Diwali With These Handcrafted Wine Gifts!
Nothing quite says Happy Diwali like a whole bunch of handcrafted wine gifts and we're telling you all about them, this festive season
The mother of all Indian family festivals is just round the corner and we're raising the stakes on the festive mood with a handpicked selection of stellar wines. Yes, Diwali is almost here and we have got a whole bunch of ways to delight your family and loved ones. Here's presenting a limited edition range of wine gift hampers featuring some of our best wines paired with paired with boutique chocolates, dry fruits and snacks, in handmade wooden casks, boxes and baskets. And the range features a special selection of wines from Italy, South Africa, Portugal and more, starring Red Tuscan Art comprising an artisanal Sangiovese style, Handpicked Elegance that features a fruit forward South African Merlot, and Festive Red Blend showcasing a rich blend of Italian and French grapes. So this Diwali, express your love to the dearest ones with the gift of vinous discovery. Have a wonderful and vinous Diwali. Cheers!
Handcrafted Italian Charm
Presented tastefully in a handmade wooden cask, Tenuta Sant Antonio, Scaia Corvina Red 2018 beams with floral notes, red fruit flavour and soft tannins, pairing nicely with craft Swiss chocolates and sugar crackers.
Elegant New World
Bowtied in a rustic custom made basket, Thelema, Mountain Red 2017 is hedonistic blend of France's finest grapes vinified in South Africa's Western Cape, regaling with full bodied elegance, matched with a luscious Lindts Lindor chocolates and almonds.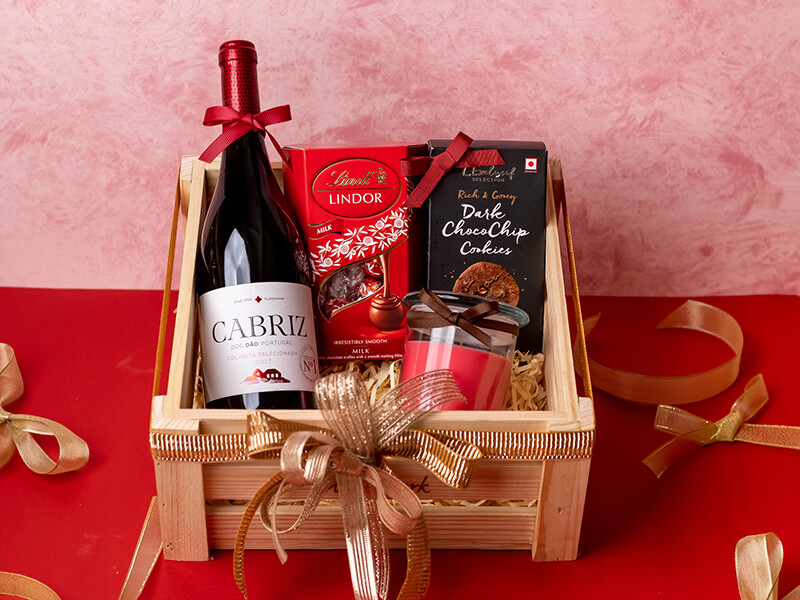 Ripe Red Elegance
Sheer vinous joy ensconced in a custom wooden cask, Quinta Di Cabriz, Selecionada 2017 is a hearty blend of authentic Portuguese grapes that express tones of wild berries and spice, complimented by silky tannins and accompanied by Lindts Lindor chocolates and cookies.
Red Tuscan Art
Presented in an charming wooden box, Bibi Graetz, Casamatta Rosso 2019 is an artistic Sangiovese style vinified by iconic self-taught winemaker Bibi Graetz, expressing vibrant character and intense red fruit balanced by smooth tannins and lifted by a bunch of curated chocolates sitting alongside.
Vintage Chianti Style
A splendid sight in a handwoven wooden basket, Romitorio, Chianti Senesi 2019's luscious texture and ripe fruit flavours charm the palate with lingering length matched nicely with dry fruits and chocolates in the wonderfully curated Diwali hamper.
Festive Red Blend
Featured in our exclusively designed red Diwali boxset is a special Italian red blend from a Veneto family estate, Tenuta Sant Antonio, Scaia Paradiso Red 2018 that marries noble Italian and French grapes to turn out a tantalizing style rich in cherries and spice, beautifully matched with delicious Swiss chocolates.
Handpicked Elegance
Looking great in our custom made Diwali boxset, this rare and elegant Man Family, Merlot, Jan Fiskaal 2018 is a real charmer, replete with ripe plums spice and touch of cocoa, finishing long. This sublime South African red's flavours are lifted by the accompanying Swiss chocolates and cookies.
Rich Red Expression
Presented in our festive red Diwali boxset, Boekenhoutskloof, The Wolftrap Red 2019 is a bold and full bodied red blend complimented by elegant texture and bouquet of delightful fruit, and silky tannins, pairing perfectly with boutique Swiss chocolates.