New Wines Rush!
This summer, we come bearing a bunch of new wines from the heart of the old world. In France's underrated Loire Valley, we've mined out two classic expressions of local grapes crafted by trending vigneron Romain Guiberteau. We've broadened the local perspective on German wine with two bright and elegant Pinot Noir wines from Mosel Valley and Franken. There's also a pleasingly refreshing Portuguese white wine vinified from a low profile grape of tremendous potential, simply made for the summer. Come be the first to enjoy our new wine bounty, this season. Cheers!
Ameal Loureiro 2020
This refreshing modern style white wine from the famous Portugal appellation of Vino Verde is just made for this searing season. Organic winemaker Quinta do Ameal specialises in the growing and vinifying the little known Louriero grape into a zesty Indigenous Portuguese wine that impresses with aromatic floral notes, refreshing citrus and lime flavours laced with minerality and zip of acidity. Louriero brings exuberance to the famous Vino Verde white blend and by itself makes a delightful wine that impressed Wine Spectators enough to rate this wine 90 points.
Domaine Guiberteau Saumur Blanc 2021
Romain Guiberteau is a protégé of Clos Rougeard, who helped redefine Loire's Saumur region and Guiberteau has taken to the next level with his organic, low interventionist approach. Chenin Blanc is the original Saumur grape that Guiberteau has turned into an internationally star in his family's estate in the notable region of Brézé. The flint rich soils impart the wine with distinct minerality to go with citrus and peach, capped by crackling acidity, finishing clean.
Domaine Guiberteau Saumur Rouge Les Moulins 2021
Guiberteau began his vinous journey on a whim in 1996 but rapidly emerged the 'grand vigneron' of Loire Valley, turning out stunning vintages in Saumur appellation's Brézé vineyards rooted in limestone soils and highly valued for the quality of its Cabernet Franc. And this 100 per cent Cab Franc is grand proof of that, farmed organically, naturally fermented and aged for 12 months. This sumptuous gourmet red shows a perfumed nose, palate of succulent cherries and herbs with polished tannins tapering towards a long smokey finish.
Rudolf Fürst, Spatburgunder Tradition 2020
Germany's reputation for making superbly fresh whites wines foreshadows its modern history for graceful, fruit forward reds. Chief among them in Pinot Noir which the Germans proudly call Spatburgunder. Rudolf Furst is a family estate based in Franken which is known for mostly for its white wines. Tradition is it's high quality estate red wine, made from grapes grown in vineyards that sits just below the Furst family home and winery. Ripe cherries, blueberry and cinnamon laced with fresh mint. This vintage in particular is elevated by a gush of acidity and smooth tannins.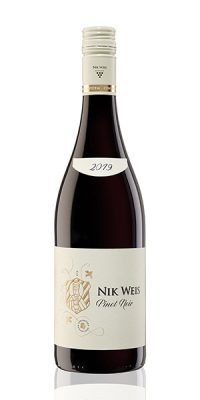 St. Urbans-Hof, Nik Weis, Pinot Noir 2019
Iconic German winemaker Nik Weis is synonymous with the gold standard of Mosel Valley Riesling and brings on the same brilliance in the making of this sublime Pinot Noir, rippling with cherries, spice and hallmark Germanic minerality. While Mosel is widely planted with Riesling grapes, tiny prime parcels of Pinot Noir vines make the most of the cool climes and slate rich slopes. In fact Nik Weis owns Mosel's oldest Pinot Noir vineyard from which comes this classic Germanic Pinot that balances silky berry fruit with barrel aged charm and complimenting minerality on a clean finish.