Our Christmas Wine Gifts, Shipping Now!
Gift your loved ones our exclusive Christmas hampers this holiday season
There's no time like Christmas to surprise, appreciate or simply acknowledge near and dear ones and what better way to do it than it with a wholesome limited edition wine gift. Yes, a wine hamper brings on the joy like Santa in all his red finery – only there's a bottle they're about to make their favourite once they uncork it and make a feast of the scrumptious accompaniments ranging from cookies to truffle lacquered nuts and yes, traditional Christmas cake. So we've put our backs into curating a scintillating festive spread of exclusive Christmas hampers for you to gift. Come browse away at thewinepark.com/Category/christmas-hampers and check out some of the choicest one right here.
Champagne Glitter
Boutique Champagne from the prestigious house of Phillipe Gonet shines with aromas of fresh butter and citrus with rich texture and delightful bubbles, lighting up Christmas with sparkling brilliance.
Hamper features Champagne Philipe Gonet, Blanc de Blanc, France, Christmas Cake and Truffle Nuts.
Pink Bling Prosecco
Floral and fruity bubbly from Veneto that adds dazzle to the season's festivities. loral notes and refreshing flavours of of citrus and peach, lifted by delightful crisp texture.
Hamper features Bisol Jeio Prosecco Rose, Candle, Truffle Crackers and Truffle Nuts.
Festive French Rose
Award winning Southern French Rose that charms the palate with floral tones and generous fruit that crackles out this heady blend of Rhone grapes, handpicked in the epic appellation of Aix-en-Provence.
Hamper features Aix Provence Rose, France, Truffle Crackers and Truffle Nuts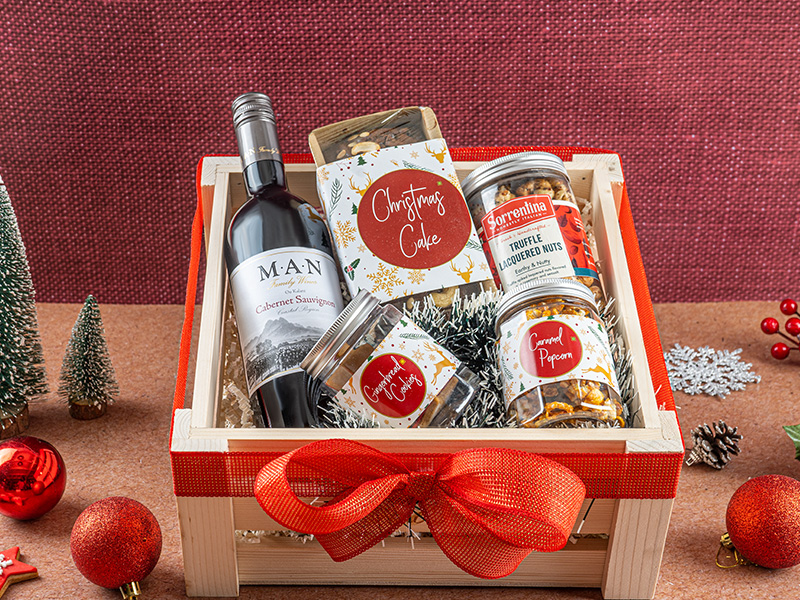 Christmas Cab
Heartwarming, fruity South African Cabernet Sauvignon from the sun washed region of Paarl, teeming with notes of red currant, cherries and mint, that finishes long on the back of soft tannins.
Hamper Includes
Man Family, Cabernet Sauvignon, South Africa, Christmas Cake, Cookies, Popcorn and Truffle Nuts
Naturally Sweet Delight
Natural sweetness and pure fruit on this wholesome red wine produced by the community driven Robertson Estate, tasting of sweet berry flavours and pleasing sweetness, rated 4.0 by Vivino.
Hamper Includes Robertson Winery, Natural Sweet Red, Christmas Cake and Truffle Nuts.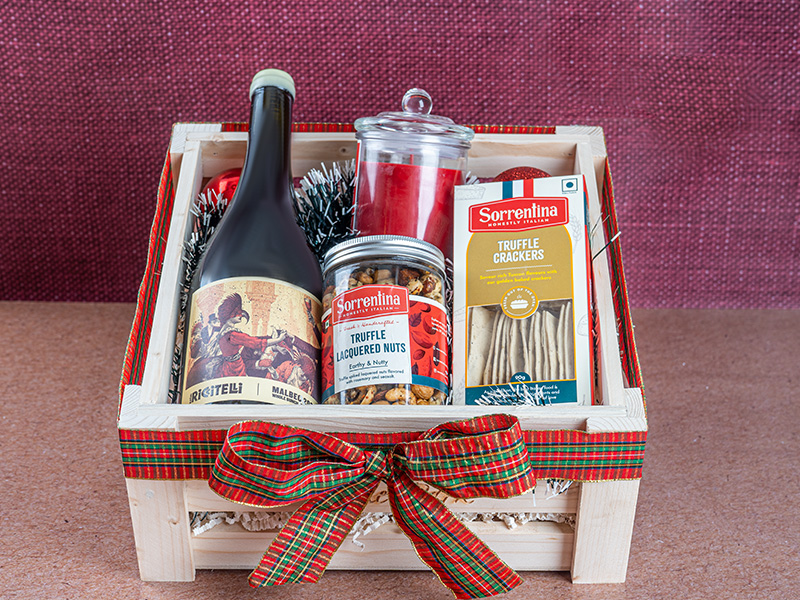 Bold New Malbec
Adventurous Argentine winemaker Matias Riccitelli has fashioned a stunning Malbec style up in misty Mendoza that expresses cherry and plum tones and touch of earthiness.
Hamper Includes
The Party Malbec, Argentina, Candle, Truffle Crackers and Truffle Nuts.
Festive Italian Red
Fruity and charming Italian red vinified by a band of brothers up in Veneto that delights with depth of red fruit flavour. Little wonder it's our perennial bestseller and also features on the elite Christmas hampers list.
Hamper Includes
Tenuta Sant Antonio, Scaia Corvina Red, Truffle Crackers, Two Cookies jars and Truffle Nuts.