Take Our Pinot Flight Of Three Cool New World Turns
Pinot Noir makes red wines beaming with vibrant fruit and elegance in specific regions where the noble grape can truly thrive. And we've picked out the best of them from estates nestled in New Zealand and South Africa. Come, take a Pinot flight with Wine Park.
France's prized bunch of noble grapes have set out their individual empires across the wine world in the course of the past two centuries, most of them carpeting vast swathes of the new world and turning out millions of cases on the market. One enigmatic exception to this prestigious club is Pinot Noir. The Burgundian grape that is delicate and finicky by nature and thrives in few and specific soils and micro climates became the subject of aspiration and annoyance in equal measure. Some winemakers took up Pinot as a passion pursuit of a lifetime while others couldn't be bothered, dismissing the grape as they would, an intolerable wine snob. But where Pinot Noir has thrived, the results have been stunning, magnetising oenophiles to the region like pilgrims to the holy grail.
Which, outside of its birthplace of Burgundy has been New Zealand and South Africa where winemakers have through patience and deft work, crafted a style that seals in the grape's core flavours and pushes the boundary on the style. New Zealand oenologists have led the charge in Central Otago and Marlborough where Pinot is receptive to the amply cool climes, ripening at just the right pace under the sun while using the nocturnal cold to retain hallmark elegance. South Africa's Elgin Valley has become the touchpoint of earthy and gracefully balanced Pinot Noir. The coolest wine region in the country sits just 4 miles off the Atlantic Ocean with breezy summers and clay soils coupling to produce Pinot Noir wines that ripe and balanced. Both these new world exponents of Pinot Noir have reimagined the stye and gently nudged the grape beyond its shy boundaries towards an exciting diversity of flavour, all of which you can experience on sumptuous Pinot flight, curated from our growing selection of this fascinating wine. Cheers!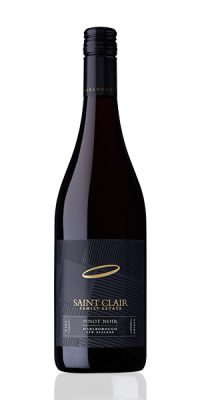 Saint Clair, Pinot Noir 2020
This boutique Pinot Noir is a fine exemplar of the style that makes New Zealand the top producer of this distinct red wine. Marlborough is held up as the high standard for Pinot Noir and the family estate of Saint Clair, one of its best makers. The Abbot family began the Saint Clair estate three decades ago focus on makings wines of thorough character and authenticity, all of which reflects in their top Pinot Noir expression. The vineyards are rooted in gravelly river bed soil and enjoy plenty of sun and contrasting cool nights that lock in great flavour and acidity, creating a wine of superb balance. The fruit is handpicked from the estate's Wairau Plain vineyards and cooled for five days before fermentation which enhances flavour extraction. This fruit forward in Pinot is in its prime, good to drink now and delights with vibrant hints of strawberry and raspberry, minerality and silky tannins.
Dog Point, Pinot Noir 2020
Good Pinot Noir is hard to find and stellar New Zealand Pinot, harder still. the extra mile to procure this elusive red but we've already spared you the effort. This classic Marlborough expression from cult New Zealand producer Dog Point embodies everything there is to love about New World Pinot . This finicky French grape has shunned most new world countries but took a particular liking to New Zealand's Marlborough region which enjoys just enough sun to ripen and cool windy nights. Viticulturist Ivan Sutherland and winemaker James Healy take especial care not to overcrop, letting the vines breathe and stretch, bearing grapes of beautiful concentration. Nutrient rich clay and loam soils, abundant sunshine, low rainfall and cool autumn nights have allowed the grape to evolve slowly, conspiring to create this sublime Pinot that expresses elegance and authentic character. This superlative red beams with perfumed floral notes and palate of ripe cherries and herbs, cradled by the subtlest of tannins.
Kara Tara, Pinot Noir 2019
Kara Tara's Pinot Noir has turned out to be one of its most loved wines thanks in large part to the decision to cultivate the finicky Burgundian grape in the country's coolest region of Elgin Valley. This elegant red is the labour of love of the lauded cool climate specialist Rüdger van Wyk who is chief winemaker at Kara Tara, known for fashioning a bunch of expressive Burgundian style wines across two of South Africa's most significant wine regions. His belief in Elgin Valley's terroir and patient approach to winemaking His core approach is to "always be in sync with Mother Nature and "the grape doing its natural thing." Elgin Valley is blessed with high altitude and oceanic proximity that keeps temperatures low, coupled with ample sunlight and clay rich soils that make the vines work hard, rationing the nutrients to good effect. Grapes for this wine are also picked from the micro climates of Overbery and Durbanville. Barrel aged for fourteen months, this Pinot Noir fills the palate with cherries and strawberries with just a hint of spice and earthy tones leading to a soft finish.